Almost 7 years removed from the first FDA approved Biosimilar (Zarxio) in 2015, the US market for Biosimilars is projected to be highly beneficial over the next decade, for both pharmaceutical companies as well as patients, with RAND Corporation projecting estimated savings of over $54 Billion during this period.

To truly comprehend such forecasts, a deeper understanding of what constitutes a 'Biosimilar Drug' is required. Essentially, the structure of a biosimilar is based on a pre-existing, approved drug known as a Biologic & possesses no significant clinical difference in safety, purity or potency in fighting a disease or disorder in comparison to the previously stated reference product.

A simple question arises.
Why create virtually a carbon copy of an existing solution?
Let's find out!

Biologics are extremely distinct & targeted medicines derived from living organisms (humans, animals, micro-organisms). These include & are not limited to hormones, vaccines, blood products, insulin, proteins & monoclonal antibodies.
Although Biologics have been extremely successful in the treatment of patients with long-term illnesses such as cancer, rheumatoid arthritis, Crohn's disease & other auto-immune conditions, the manufacturing costs due to the complexities in their development & production are very high, rendering them out of reach for a vast majority of patients who cannot afford such expensive therapies.

Herein lies the primary factor for the introduction of Biosimilars.
Expected to lower treatment costs by a third with respect to the original biologic, biosimilars allow a wider base of patients, an opportunity to manage & cope with chronic diseases.

Delicate & complex manufacturing processes, predictable resistance from biologic manufacturers clubbed with a passage of assessment & multiple stages of clinical trials whose data is carefully examined (rightfully so), means the path from conception to functional existence of a biosimilar is a long & strenuous one.

The process of approval involves demonstration & proof of a number of factors such as :
Scientific studies proving the product is 'similar' to the reference biologic barring minor differences of clinically inactive components.
Animal studies & evaluation of toxicity.
A clinical study to demonstrate the safety, purity and potency of the biosimilar with respect to the illness it's designed to fight.
Information proving that the biosimilar has the same, desired clinical effects as the originally prescribed biologic.
No safety risk or possibility of reduction in efficacy of the specific method of treatment if a patient switches from the biologic to the biosimilar.
Having said that, according to a study by The IQVIA Institute, biologics accounted for 37% of expenditure on prescription drugs in the US in 2017, on a mere 2% of total prescriptions.

The potential to fight life-threatening diseases clubbed with expiring patents for highly successful biologics means several existing & newer pharmaceutical companies are hoping to structurally & clinically replicate these drugs to occupy a chunk of the market for the foreseeable future.

Developments in the biosimilar ecosystem are ramping up as with each passing week.

A gathering of experts to discuss between the lines of the present & future scenarios for the industry is scheduled to be held from the 23rd – 24th of June, 2022 in Boston, USA.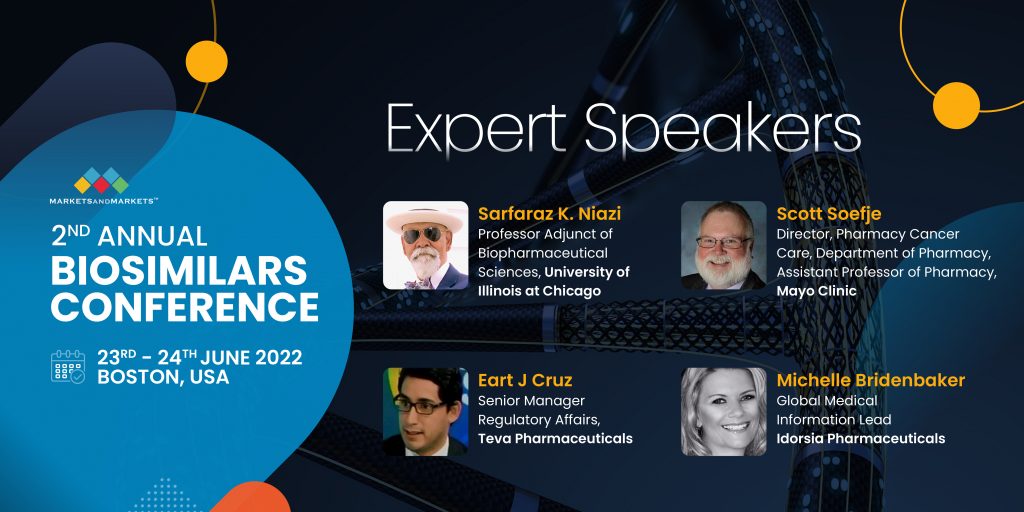 To catch more than a glimpse of the latest trends, grab a seat at the
2nd Annual MarketsandMarkets Biosimilars Conference today.

Register here – https://bit.ly/Biosimilars-Boston-MnM
Or reach out to us for a quick & pleasant chat – [email protected]