Gold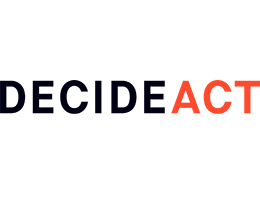 DecideAct
DECIDEACT IS A GROUNDBREAKING NEW DIGITAL TOOL FOR STRATEGY IMPLEMENTATION, FOLLOWUP AND GOVERNANCE
DECIDE ACT IS TO STRATEGY WHAT THE ACCOUNTING SYSTEM IS TO FINANCIALS
The tool creates accountability and transparency within the organization and makes the implementation of business strategy as tangible, as transparent and as quantifiable as financial performance.
DecideAct provides a clear overview through an easy to understand dashboard and turns decisions into real actions through automated follow-ups.
DECIDEACT MODERNIZE STRATEGIC LEADERSHIP THROUGH TECHNOLOGY
The tool builds infrastructure for the entire strategic hierarchy and supports management with an instant overview of progress and helps and motivates team members to ensure their initiatives are executed timely and on budget.
DECIDEACT ENABLES MANAGEMENT TO:
Deploy the same level of governance for strategy as finances
Create strategic coherency throughout the organization by aligning and engaging everyone in the execution
Monitor strategic progress, key performance and budget related to strategy
Handle any strategic framework customized to your needs
DECIDEACT MAKES STRATEGY WALK THE TALK
---