Most CROs or Chief Revenue Officers have risen through the ranks with a successful sales career under their belts. But as the newest members in the boardroom, they face an entirely new set of challenges. They also need to adapt to a unique set of tasks and possibly develop a new skillset as they take over every revenue-generating function in the business in order to drive predictable growth. The CRO needs to own the go-to-market strategy, drive pricing and product structure, set the buyer journey, and build the company's vision for growth and possibility, which demands much more than just crunching numbers. The CRO has to take ownership of a company's outlook, with a confident and aggressive strategy on one hand and a, steady and predictable approach on the other.
"The CRO is a C-level executive whose focus is revenue growth and needs to align and lead all revenue-generating departments such as marketing, sales, business operations, account management, and customer success. However, without an existing revenue pipeline, it is unrealistic to expect a CRO to perform miracles," said Sandeep Singhal.
CROs own the go-to-market strategy. They drive pricing and product structure, and they set the buyer journey. The role of a CRO is uniquely positioned executive role, at the intersection of different fields that capitalizes on revenue opportunities, business operations, and customer success.
Breaking
down silos

Marketing and sales teams cannot operate effectively in silos. For a growing business, evolving a professional subculture within the sales organization is not easy.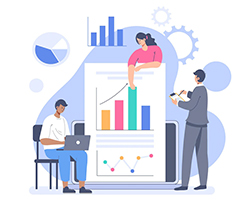 How will a CRO be able to convey to the entire organization that sales and marketing should work in tandem with equal importance towards a common goal? "A holistic approach to revenue growth is increasingly essential, especially in early growth companies where the pace of innovation and the competitiveness of the marketplace require close coordination between departments. In the software industry, companies are no longer constrained by inventory or bandwidth, allowing for rapid exponential growth and close integration of marketing, sales, business development, partnerships, and customer success - and that's where CROs can help by building a direct line from marketing and sales to one person who can holistically understand the entire picture and how the pieces connect with each other," explains Sandeep.
Shifting the goal posts


When does hiring a CRO make real sense for a growth stage company?
Hiring a CRO is a big investment in a company's sales and growth trajectory, and while hiring a CRO in a start-up business might not make sense initially, when deciding to align and expand all revenue-generating departments in a rapidly changing business environment, it might work well. It is important to clearly understand the nature of a business before hiring a CRO and assessing whether a business is marketing-driven and sales-supported. By clarifying the needs and understanding the optimal organizational structure, one can intelligently recruit the right type of leader to build a revenue-focused organization. To succeed in a business environment that's clouded in uncertainty and driven by disruption, organizations need leaders that can think beyond their one function or department - they need leaders that are agile, fast-thinking, and multidimensional in their approach. Designed to disrupt, the CRO needs to bring together the traditional sales, marketing, finance, and product team functions, capitalize on new revenue opportunities, not maintain the status quo, but become transformative for an organization. The CRO role isn't a fad. It's an important milestone in the evolution of your organization. By integrating sales, marketing, and other parts of the business, a CRO can execute fast-growth strategies that are out of reach when key pieces of the revenue puzzle operate as siloed business functions.
To meet these challenges, established companies are increasingly relying on corporate incubators to fuel innovation and growth using an entrepreneurial mindset. Start-ups are able to launch new products and services and devise new business models that disrupt the competitive advantages of incumbent firms," explains Miha Bobic, adding, "To benefit from the entrepreneurial and innovative dynamism of start-ups, large companies have begun to set up corporate incubators, which have emerged as a modern tool for innovation enabling the development of small teams capable of operating in a more flexible and un-bureaucratic environment, which certainly increases the pace of their actions.
Who's who
Deb Deep Sengupta
Chief Revenue Officer - Cloud4C, Board Advisor, Investor, Former CEO SAP India & South Asia. Deep has a proven track record of building "Winning Culture", inspiring next generation leaders, transforming legacy software business to Cloud (SaaS) market leadership, incubating new businesses to global scale & GTM. Deep's passion for growth-oriented businesses have led him to investing and advising Founders & CEO's in B2B SaaS/Deep Tech Start-ups across many different areas. As an Investor & Board Advisor, he helps mid-stage and late-stage start-ups with their GTM and growth strategies across People, Products, Process, & Pipeline. He is also a Mentor/Adjunct Faculty for London Business School's Executive Programs for CXO's focused on growth and transformation.
Sandeep Singhal
Senior Advisor & Investment Committee Member, Avaana Capital. Sandeep is one of the pioneers of Venture Capital in India and saw the startup investment opportunity very early. He was involved in the startup scene, first running his own startup - Medusind Solutions, before starting an investment firm - eVentures India in 1999 and later co-founded Nexus Venture Partners in 2006. He was also an early investor in MakeMyTrip, one of India's first-generation internet firms which went public in the US.